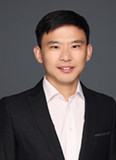 Prof. Bing Li , Northwestern Polytechnical University, China
李冰教授,西北工业大学
Personal Website:

hhttps://teacher.nwpu.edu.cn/bingli.html
Dr. Bing Li is currently a professor in the School of Aeronautics at Northwestern Polytechnical University (NPU). He joined NPU as an Associate Professor in Fall 2018. Since May 2021, he has been promoted to a full-time Professor. He conducted his Post-Doctoral training in 2015-2018 at The University of Akron (Akron, US), working with Prof. K.T. Tan in the area of mechanical/elastic/acoustic metamaterials. He received his Joint-Supervision Ph.D. training in the School of AMME at The University of Sydney (Sydney, Australia) in 2013-2014, working in Prof. Lin Ye's research group, in the area of structural health monitoring (SHM) and damage identification. He earned his Ph.D. in the College of Engineering at Peking University (Beijing, China) in 2015, working with Prof. Zheng Li in the area of damage detection and identification using typical nondestructive testing & evaluation (NDT&E) methods. He received his B.Eng. from Harbin Engineering University (Harbin, China) in 2009. Dr. Li's primary research interests lie in the field of elastic, acoustic, mechanical metamaterials, wave propagation and vibration control, SHM and NDT&E.

Dr. Li has published over 60 research articles in top-tier peer-reviewed journals and major international conferences. He is an active journal reviewer (over 30 international journals). He is also a member of The Acoustical Society of America (ASA), American Society for Composites (ASC), American Institute of Aeronautics and Astronautics (AIAA), and International Photonic Society (IPS).