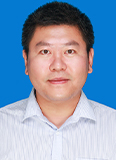 Prof. Ming Liu, Fuzhou University, China
刘明教授,福州大学
Personal Website:

https://jxxy.fzu.edu.cn/info/1218/5450.htm
Ming Liu received his BS and MS in Harbin Institute of Technology, achieved his PhD in University of Kentucky in December, 2012, and served as a post-doctorate researcher at the Center of Materials, Mines Paris Tech France in 2013, and at Washington State University in 2014. He joined School of Mechanical Engineering and Automation, Fuzhou University in 2015, and became Professor and Doctor Supervisor thanks to Fujian Provincial Minjiang Scholar Program. He has been a member of China National Steel Standardization Technical Committee since 2021, and serves as an editorial board member of Nanotechnology and Precision Engineering, and young editorial board member of Journal of Chongqing University of Technology (Natural Science). His research focus in on characterization of surface micromechanics by instrumented indentation and scratch methods.